Harvard Krokodiloes in concert!
November 19 - New Haven
Come kick off the Harvard - Yale Football Game weekend at a HCSC Happy Hour featuring the Harvard Kroks!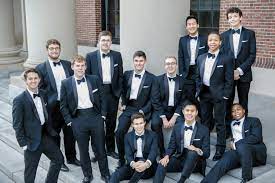 Please join us for a fun evening of drinks, appetizers, and music as we host the Harvard Krokodiloes in concert at 116 Crown in New Haven at 5:30 PM on Friday November 19th. Come hear them perform their signature blend of jazz and swing standards on the outdoor patio.
Tickets include one drink and light appetizers, and the event is open to all who are fully vaccinated.
Please RSVP by November 15th.