Upcoming Events
Upcoming Events Below
7:00PM - 8:30PM Thu 21 Dec 2023, Eastern timezone

Join us for a virtual book club!
from our house to your house, the hcsc board of directors wishes the harvard community and their families a very joyous holiday season!
we look forward to seeing you and your families and friends at our upcoming events in 2024. cheers!
.. ...
"
The board of directors of the HCSC hope you are enjoying viewing the photos we have uploaded on the club's photo fader at the top of the home page. On Wednesday, December 6th we hosted our annual Winter Social at the beautiful Elm City Club in New Haven. Thank you so much for your generous contributions of pajamas. We enjoyed viewing the festive Christmas attire and the "little ones" that joined us.
Thursday, October 19th, a special book discussion in Branford took place. Charles Barber and Mark Masselli spoke about the book "Peace & Health" at the Wallace Willoughby Memorial Library. A few sneek peaks of the event are uploaded. Our club recently hosted the second wine tasting dinner at Zinc Restaurant in New Haven on Thursday, October 12th. "Welcome to your City" event was held on Wednesday, September 27th at the High George at The Blake Hotel in New Haven. This event was held in conjunction with other Harvard Clubs across the globe. Stay tuned for more fun events and photos coming your way ... in the meantime, please drop us a line, we welcome our alumni's feedback and input on organizing future events.
We extend our best wishes to our area freshmen who have started their new academic year on the Cambridge campus.
To learn more about interviewing prospective students, or becoming an area chair, visit the "Interviewing" Tab at the top of the club's home page. To get started, simply use your HarvardKey, visit alumniportal.fas.harvard.edu to complete your Information Form.
If you have any questions, please contact our Schools and Scholarships Chair, Jennifer Tombaugh AB '90, MBA '95 at jbtombaugh@yahoo.com.
2023 Summer Fellowship Reflection Papers
On another note, we are delighted to share reflections papers from our 2023 Summer Fellowship Recipients; Elizabeth Crawford, Henry Fisher, and Grace Vlaun.
Hello,
Working for the Connecticut Hospice was a transformative experience. The amount of information that I learned about patient interaction, medical terminology, compliance standards in medicine, and the importance of outreach exceeded my expectations, while changing the trajectory of my life. After witnessing the beauty involved in hospice medicine, my aspirations to go into medicine were confirmed, and I decided that I truly belonged in a medical specialty.
I added a link to a blog post article that the CEO of the hospice asked me to write about my experience this summer. I also attached a picture to this email from my experience.
Thank you for all the work that you and the Harvard Club of Southern Connecticut did in order to make this experience possible for me.
Blog Post : https://www.hospice.com/hospice-care-is-the-kindest-form-of-medicine/#:~:text=Hospice%20Care%20and%20its%20Generosity,patient%20the%20best%20experience%20possible
Kind Regards,
Grace Vlaun
Grace Vlaun
Harvard College | Class of 2025
Candidate in Neurobiology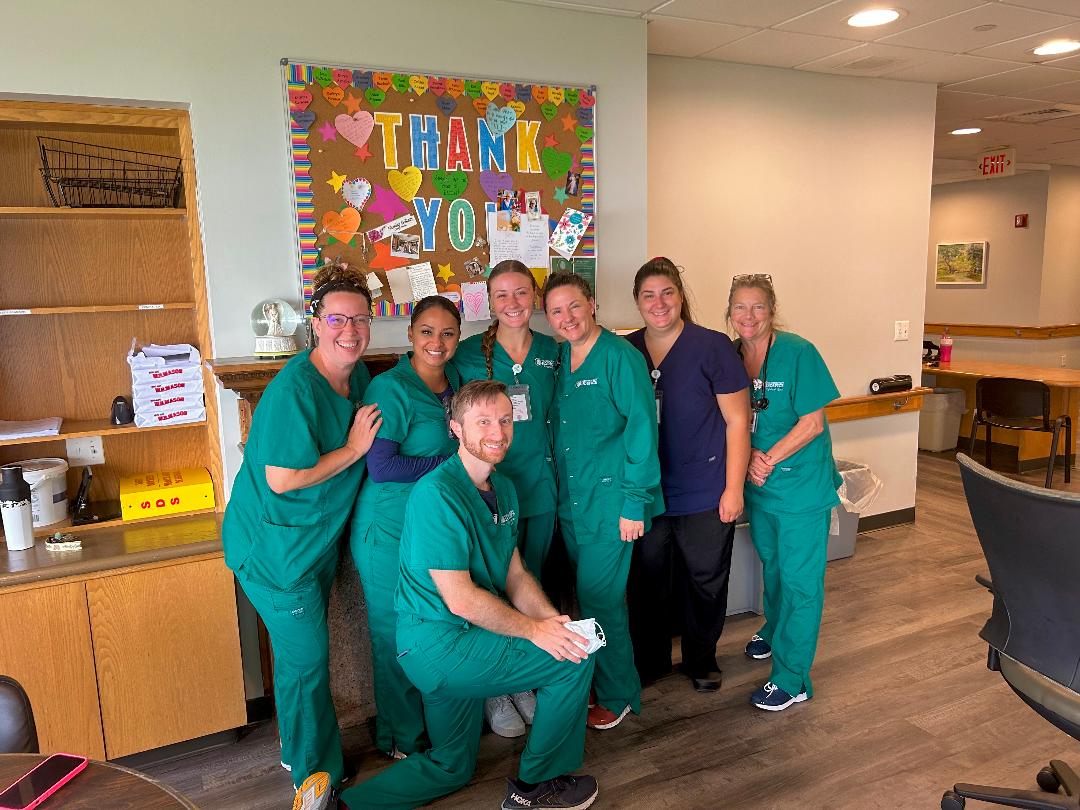 Summer Internship Reflection by Elizabeth Crawford
This summer, I got the opportunity to intern with Fair Opportunity Project as a data science/programs team intern. My duties ranged from working on website bugs, to outreach for prospective mentorship students. I learned the value of being flexible in a nonprofit environment, and being able to help out wherever I'm needed. I learned how essential young students like me are to the success of educational nonprofits, as our unique perspective provides such valuable insight into the areas that need more support.
Fair Opportunity Project has a main team of five people, making the level of separation between directors and interns essentially nonexistent. I specifically enjoyed this aspect of the nonprofit, because I was able to learn directly from people who had found success in this field and gain their feedback on my projects. This also meant that my "projects" weren't really projects at all. I was primarily responding to critical needs at all times. Although this helped me see how useful I was and that the work I was doing was important, it was also stressful at times. Without many people to lean on, if I was unable to complete a task, that meant that not as many students would get the chance to utilize the service.
This experience also opened my eyes to the type of work I enjoy doing. Previously, I knew where my strengths lied— writing, problem solving, collaboration— but now, I am aware of my favorite ways to apply these strengths. I found the problem solving part of my job the most engaging, as I was able to not only do critically important work, but debug the website from whatever was stopping that work from happening. Previously taking computer science in high school proved to be very useful, as I was able to utilize the problem solving skills I learned regularly. This being my favorite aspect also reaffirmed my decision of what I am studying at Harvard, Statistics and Sociology. I love that these two disciplines seem so different, but really bring together my two favorite things.
Further, I realized how important collaboration is to my ideal work environment. Fair Opportunity Project was very welcome to collaboration, but with a remote-work format, that was very difficult to achieve. Scheduling one-on-one meeting with supervisors seemed too formal for just one question, and no one was around to just pop in and check in. This taught me that, in the future, my ideal job would be in person so that I can actively engage and collaborate with whatever team I am on.
I am so thankful to The Harvard Club of Southern Connecticut for giving me this opportunity to not only learn about the public service sector, but my own personal goals and preferences. It has been invaluable learning how critical people like me are in this area of work, and it would not be possible without the support of The Harvard Club of Southern Connecticut. Thank you for an amazing summer!
I worked at Project Music this summer. Project Music is a nonprofit located in Stamford, Connecticut which provides free musical instruction to middle- and high-school students that would have a hard time getting that instruction otherwise. I helped with various parts of the nonprofit's operations. I helped set up their main yearly fundraiser, and I ushered for the event. I assembled marketing materials for PM's social media. I worked alongside a software engineering freelancer to redesign PM's website. Project Music is a very small nonprofit (<20 people on staff) and I was mostly in contact with its executive director through the course of these projects. This experience exposed me to many aspects of running a nonprofit.
This summer, I had to face the challenge of wearing many hats. Despite the fact that no actual educational programs were running in the summer, I was astonished by the amount and variety of administrative tasks there were to do, from printing promotional materials at FedEx, to writing tax forms, to renewing website domains. I had to rely on several different skill sets each day — my computer science skills, graphic design skills, and interpersonal skills, to name a few.
Working remotely was another challenge. It was difficult to stay in communication with my coworkers when they were not physically present with me. They would often not answer slack messages or emails and I had to adapt to their timelines. It was also difficult to get into the mindset of work, and feel like what I did was meaningful, while I was staring at a computer screen at home the whole time. The one in-person event this summer was the fundraiser. It the most rewarding experience I had during the internship. A group of kids who were in PM's jazz band last year came together to perform at the fundraiser. Actually witnessing this performance — particularly the rapport between students and instructors, and the confidence and joy that playing music gave the students — allowed me to understand what exactly we were all working towards. Incidentally, this was the whole purpose of the fundraiser — to give the nonprofit's trustees and donors proof that their effort and money was going to a good place.
The summer fellowship definitely exceeded my expectations. I was afraid it was going to be an impersonal office job with a lot of grunt work, but working at Project Music was nothing if not exciting. I was constantly on my toes, and despite the intangibility of remote work, I ultimately felt as though I did my part in helping keep Project Music running through another year. Working so closely with an executive director also sparked my interest in running a business. There's a kind of entrepreneurial spirit at Harvard which I've never quite been able to relate to, but I was genuinely impressed and engaged watching my boss keep the business afloat. Because of this experience, I am considering taking courses on business in the future, and perhaps someday I may start my own business.
All the best,
Henry Fisher
henryfisher@college.harvard.edu
Interested in learning more about our club? Join or Renew Today!
Your dues and your additional support keep our Club strong! They support programs, such as the

Harvard Book Prize

and the

Summer Community Service Fellowships

help the club achieve its mission of promoting Harvard in Southern Connecticut and fostering excellence among young people in our communities.
Please consider starting or renewing your club membership.

Join us today...
Claim Your HarvardKey.
Your Harvard Login for Life

Click here to learn more about HarvardKey and then claim yours right at your fingertips.
"LET ME TELL YOU, HARVARD IS IN LOVE WITH YOU"
Let me tell you, Harvard
Is in love with you.
Let me hear you whisper
That you love Harvard, too.
Keep those alumni glowing
In your eyes so crimson.
Let me tell you, Harvard
Is in love with you.
_____________________________________________________________________________________________________________________________________________