Let's take a trip to Ethiopia...sort of.

The Harvard Club is hosting a special evening to explore Ethiopian culture, traditions and cuisine. We will take our trip on Monday, March 27 at 6:00pm and our
destination will be Lalibela Restaurant in New Haven. Our hosts will be authentically Ethiopian and authentically Harvard! Our cuisine will be provided by our hosts and Lalibela owners, Shilmat & Wub Tessema, parents of current Harvard freshman, Mikael Tessema. Our education and entertainment for the evening will come from Charlie Sutton, AB '62. What a fun evening!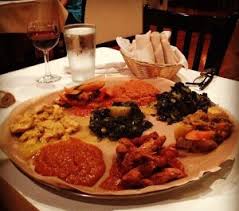 We will enjoy a full dinner, including appetizer, selection of main courses, dessert, coffee & tea. Cost of your Ethiopian trip is $40, plus any alcoholic drinks you wish.


About Lalibela: Lalibela Restaurant in downtown New Haven, has served the finest Ethiopian cuisine in Connecticut since 1999. Ethiopian cuisine is based on an exotic blend of

spices both robust and subtle. A part of each entree is the traditional bread called injera. Entrees are eaten by breaking off a small piece of injera, placing it on the stew of your choice and pinching your fingers together to pick up the amount of food you desire.

From the New York Times: "Perhaps it's the hominess of the cuisine, or the ritual of eating with you hands, but the pleasure of sharing these simply prepared, tasty dishes makes Lalibela a love place for a casual get-together." Read the entire NY Times Review.

When:
6:00PM - 10:00PM Mon 27 Mar 2017, Eastern timezone

Where:
Lalibela Ethiopian Restaurant
176 Temple Street
New Haven, CT 06510
[ Get Directions ]
Enter Waitlist Here...
Look Who's Coming:
Kelin Gersick
Guest of Kelin Gersick
Sandy Blanchard
Susan Blanchard
Jennifer Tombaugh
Joseph Cappelleri
Alexandra Mack
Jennifer Tate
Guest of Jennifer Tate
Emilie de Brigard
William McKinney
Peter Burrow
Monica Ganatra
Yves-Georges Joseph
Kristofer Segerberg
Linda Casale
Andrew Piccolo
William Malone
Guest of William Malone
Nehal Khokhar
Russell Baris
Guest of Russell Baris
Olivia White
Guest of Olivia White
Henry Auer
Mary Solanto
Judith Greene
prathibha varkey
Raymond Leyden
Doug Fried
Lori Hashizume
Deborah Griesbach
Harvest Moon Timber Frame
Sara Griesbach
Cheshire Academy
Hannah Griesbach
Langan Engineering
Robert Mazzone
Kim Kiner - Mazzone
Madeline Wilson
Andrew Wolf
... a total of 40 guests.
Note: to opt out from this list please sign in, go to My Account and change your preferences under My RSVPs.