Long Island Sound Maritime History Cruise - Old Saybrook
*** Sold Out. Scroll Down to Add Your Name to the Waitlist ***
Sunset Cruise on the Schooner SoundWaters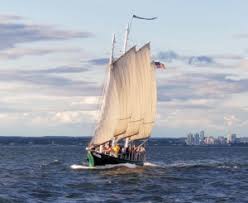 Join Harvard friends for a very special sunset Long Island Sound cruise aboard the Schooner SoundWaters, an 80', three-masted replica of a 19th century sharpie schooner. Our two-hour cruise will depart at 6:00pm on Wednesday, August 22 from the Between The Bridges Marina in Old Saybrook. While we enjoy the breezes and wonderful sunset views from the deck, the SoundWaters crew will tell us about the significance of the Sound to the American maritime and shell fishing industry and the unique place the sharpie schooner has played in maritime history.
The Schooner SoundWaters is the flagship (or floating classroom) of SoundWaters, the pre-eminent environmental education organization on Long Island Sound. SoundWaters pursues its mission to protect Long Island Sound through education by teaching the science of the Sound to over 32,000 pre-K through high school students every year from across Connecticut and coastal New York.
SoundWaters capacity is strictly limited to 40 passengers and children under the age of 5 years old are not allowed. Please do not wait to purchase your tickets as this cruise is expected to sell out quickly.
Tickets may be purchased for $25.00 each and include a light dinner and non-alcoholic beverages. Passengers may bring beer and wine and any other food of their choice.
Questions? Email bobmazzone@post.harvard.edu
Click here to buy tickets!!!
When:
6:00PM - 8:00PM Wed 22 Aug 2018, Eastern timezone

Where:
Between The Bridges Marina
2 Clark Street
Old Saybrook, CT 06475
[ Get Directions ]
Enter Waitlist Here...
Look Who's Coming:
Vincent DELUISE
Debra Hinck
Charles Monagan
Marcia Monagan
Paul Smith
Renata Morteo
John Lundeen
AB'74(Kirkland), MPP-'78
Gael Lundeen
AB '79(Adams), MBA '81
Peter Gibbon
Boston University
Carol Gibbon
Andrew Wolf
Linda Lee
Jennifer Tate
HCSC, Treasurer
Walker Burns
Victor Friedrich
Karen Otte
Mary Ellen Nagle
Joseph Zirlis
Joseph Zirlis Zirlis
Jane Zirlis
Guest of Joseph Zirlis
Guy Ule
Mimi Allen
David Theobald
Guest of David Theobald
Kurt Zeppetello
Kurt Zeppetello
Julian Zeppetello
Thomas Cooke
Rosalind van Stolk
Henry Auer
Raisa Roginsky
... a total of 32 guests.
Note: to opt out from this list please sign in, go to My Account and change your preferences under My RSVPs.