Long Island Sound Maritime History Cruise - August 13 in Bridgeport
Sunset Cruise on the Schooner SoundWaters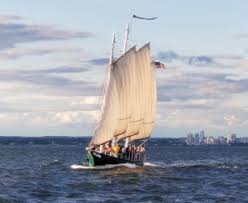 Join Harvard friends for a very special sunset Long Island Sound cruise aboard the Schooner SoundWaters, an 80', three-masted replica of a 19th century sharpie schooner. Our two-hour cruise will depart at 6:00pm on Tuesday, August 13 from the Captain's Cove Marina in Bridgeport. While we enjoy the breezes and wonderful sunset views from the deck, the SoundWaters crew will tell us about the significance of the Sound to the American maritime and shell fishing industry and the unique place the sharpie schooner has played in maritime history.
The Schooner SoundWaters is the flagship (or floating classroom) of SoundWaters, the pre-eminent environmental education organization on Long Island Sound. SoundWaters pursues its mission to protect Long Island Sound through education by teaching the science of the Sound to over 32,000 pre-K through high school students every year from across Connecticut and coastal New York.
SoundWaters capacity is strictly limited to 40 passengers and children under the age of 5 years old are not allowed. Please do not wait to purchase your tickets as this cruise is expected to sell out quickly.
Tickets may be purchased for $25.00 each and include a light dinner and non-alcoholic beverages. Passengers may bring beer and wine and any other food of their choice.
Questions? Email bobmazzone@post.harvard.edu
Click here to buy tickets!!!
When:
Tuesday, 08/13/19 at 6:00pm - Tuesday at 8:00pm | iCal
Where:
Captain's Cove Marina
1 Bostwick Ave.
Bridgeport, CT 06605
[ Get Directions ]
Look Who's Coming:
Ruth Torres
Guest of Ruth Torres
Kelly Raskauskas
Tom Raskauskas
Alexandra Mack
Kurt Zeppetello
Doreen Collins
Tom Collins
Daniel Katzenberger
Best Buy
Monica Ganatra
... a total of 10 guests.
Note: to opt out from this list please sign in, go to My Account and change your preferences under My RSVPs.