Harvard - Yale Hockey Dinner & Game: November 16
Pre-Game Dinner at the New Haven Lawn Club
The Harvard Clubs of Southern Connecticut and Fairfield County have secured a block of tickets for the Harvard - Yale hockey game on Saturday, November 16 and we hope you can attend. All tickets include the annual pre-game dinner at the New Haven Lawn Club. You are invited to join us at 5:00pm for drinks (cash bar), followed by a delicious buffet dinner at 5:45pm. Game parking is easy: There is plenty of free parking at the Lawn Club so just leave your car there and walk the short distance to Ingalls Rink for the 7:00pm faceoff between these perennial hockey powers.

Don't Wait
As usual, both Harvard and Yale are expected to compete for the top spot in the ECAC and the early season matchup in New Haven will help set the stage for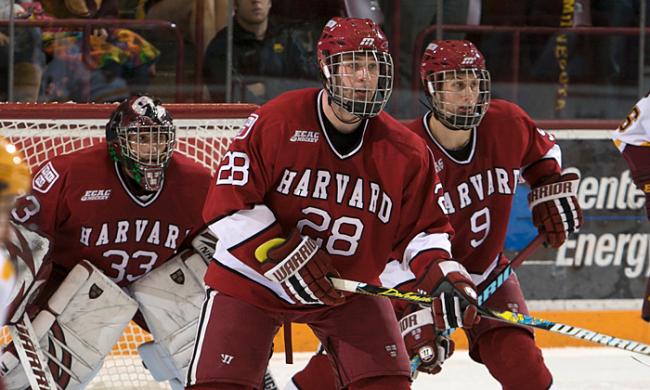 each team's season. You won't want to miss this game. As always, the game will be a fast sellout (the Club sold out its allotment of tickets for last season's game in two days!)

Ordering Tickets
All tickets include dinner. The fastest, easiest way to reserve your tickets is online. If you prefer to pay by check, please contact us directly at bobmazzone@post.harvard.edu to reserve your tickets. We will then ask you to send a check to 26 Blake Street, Ivoryton, CT 06442 to pay for your tickets. Your tickets will not be guaranteed until your check is received.
NOTE: Game tickets will be mailed by November 8th.
Questions? Email bobmazzone@post.harvard.edu
Order your tickets today. Select from the options below (game tickets are not sold separately):
- Dinner and Game Tickets ($85ea)
When:
5:00PM - 10:00PM Sat 16 Nov 2019 ( Timezone: Eastern )

Where:
Ingalls Rink
73 Sachem Street
New Haven, CT 06511
[ Get Directions ]
Look Who's Coming:
Daniel Esty
Elizabeth Y
Peter O'Connell
Katherine Reynolds
Ariel Sloan
Daniel Scoppetta
Rainier Bagdasarian
Samantha DeGennaro
Guest of Samantha DeGennaro
Richard Jerbi
Nadine Jerbi
Mattea Jerbi
George Jerbi
Sophia Jerbi
Yves-Georges Joseph
Peter Burrow
Robert Mazzone
Michael Diaz
Jennifer Heikkila Diaz
... a total of 19 guests.
Note: to opt out from this list please sign in, go to My Account and change your preferences under My RSVPs.